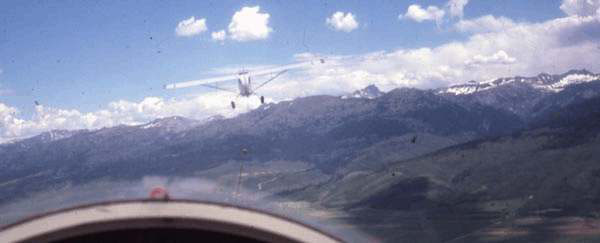 On tow, en route to release over Grand Targhee
A Teton Soaring Vacation
by
Don Provost
Extracted from the January 2008 EAA Chapter 501's Newsletter ("Propwash")
With a week off in July 1979, I packed fishing and camping gear on my Cherokee and took off for a vacation in the Rockies. Like most of my flying vacation trips, this one was loosely planned, with no reservations and no set schedule. My instrument rating would allow me to climb through a fog layer in the morning, but I preferred to dodge the afternoon thunderstorms VFR. The route west therefore was zigzag. From my home field, then at Princeton, it was Syracuse, Buffalo, Fort Wayne, Dubuque, Worthington, Sioux Falls, the grass field at Wall, South Dakota (to shop at their world famous drug store… bumper sticker: "Have you dug Wall Drug?"), Spearfish (nearest airport to Deadwood… always stop at the Number 10 Saloon), Sheridan, Cody (near the east entrance to Yellowstone), and finally, four days from New Jersey and the farthest point west on my trip, Driggs, Idaho.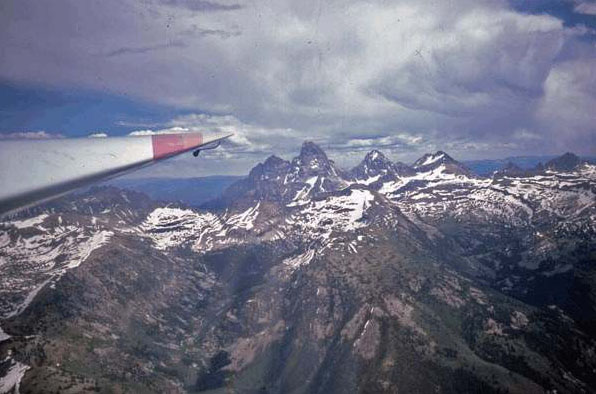 Why Driggs? To exercise the privilege of my glider rating. With only 107 flights and 3 years of experience in my sailplane log, the folks at the FBO rented me a glider anyhow. Maybe they figured if I made it this far into the mountains in my airplane, then they had a chance of getting their sailplane back in one piece.
Before I got a glider checkout, my instructor took the controls of my Cherokee and we flew the mountains like a glider, and skimmed over the ridges a bit closer than I would have. But the lesson being taught was what to do and where to land if you lose lift and your sailplane is now heading downhill down a canyon.
A glider check-ride followed, in a 2 place Romanianbuilt Lark. After a 2,000-foot (vertical) tow we released over the top of the ski lift of Grand Targhee, Wyoming resort, on the western slopes of the Tetons.
Very important lesson from the check ride: I was shown where the lift could be found. Over the mountains in the summer, the cumulus clouds gather for good thermal soaring only for about three hours each day, late morning to early afternoon. Later on, the rain showers spread and the lift is gone.
Driggs is unique among soaring sites in that much of the summertime sailplane activity takes place downwind of the airport. If the lift quits, you'd better have the altitude to make it back. As I remember, if you get below 10,000 feet and you are east of "the Grand" you have to head for Jackson Hole Airport, elevation 6,451 feet (and then pay dearly for a tow back home). If you are west of the Grand when you start to get low, you fly as much as 15 miles, west, into the wind (fortunately light in the summer), back to Driggs' Teton Peaks Airport, elevation 6,202 feet. Remember? No engine! You can't even paddle home.
My check ride out of the way, they let me take charge of a sleek, single place Schweizer 1-34 and I spent the next 2 hours and 20 minutes h a v i n g a b a l l, above the peaks of America's most beautiful and most photographed mountain range. The highest peak, Grand Teton, is 13,770 feet.
Later that day I set up my tent at Teton Canyon, Wyoming, campground, down a private ranch road and about 10 miles from civilization. I was unexpectedly alone in the campground. Great fishing but not much sleep. Grizzly country! Second night was wisely registered in a ski lodge at the foot of Jackson Hole's ski slope.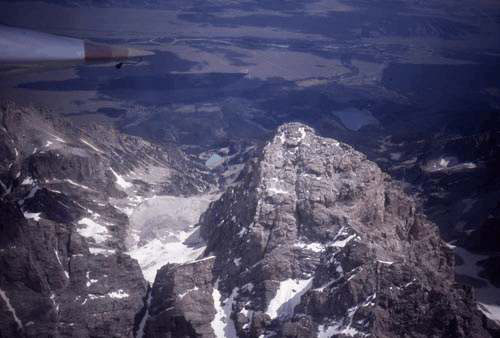 The second day of soaring turned out to be a disappointment. There wasn't enough lift to get close to the mountains. Rain showers then moved in and ended the day.
The two-day trip back home to Princeton Airport was via Casper, Goodland, Wichita, Springfield, Mo., Nashville (Saturday night at the Grand Ol'e Op'ry), and Bluefield, WV.
Two years later, in July, I returned to Driggs for another try at thermaling over the Tetons and maybe circling the Grand. This time the check ride was in a Blanik L-13, and then I rented for the next two days the very same 1-34, N7635, that I had flown two years earlier. The sun and clouds cooperated and soaring conditions were great on both days. Mission accomplished!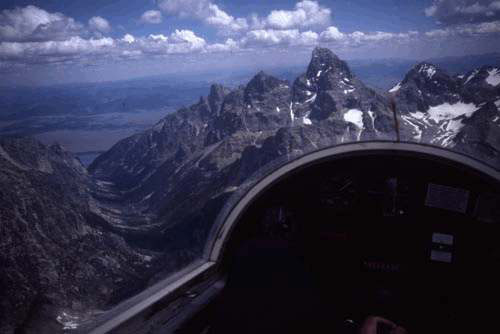 Footnote to this story: There have been no entries in my sailplane log since 1988. Other distractions. Other interests. While reviewing the log to write this story I spotted a familiar name: "F. H. Wood, CFI" had signed me off at Wurtsboro on July 8, 1984 for an annual glider check. Didn't meet F. H. Wood again until I joined EAA 501 seven years ago. Didn't realize Woody was in my log until this week! Many thanks to Woody and the flight schools at Wurtsboro and Flying Seminoles' Ranch for helping me earn my glider rating and stay current and enjoy, for a 12 year stretch, the sport of soaring, one of the great flying experiences.