C-FKCV
by
Hugh Douglas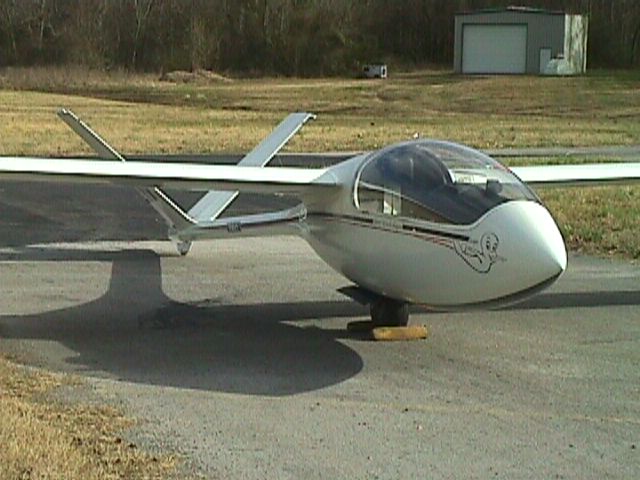 My first sailplane- Schrader RS-15 (was N-122GW) aka Casper
My love of flight has been with me since I was a child, and dreamt of becoming a fighter pilot. However, my poor eye sight squashed that idea.
Fast forward 45 years, I got involved in sailplanes because they are cheaper to own and operating when compared to powered aircraft. After joining York soaring I decided to look at the actual cost of owning a sail plane and decided that I should take the plunge ….I am not even licensed as yet.
I found that the HP-18 for sale in Ontario Canada however it was a little too costly for my liking and then by chance came upon this web site and immediately fell in love with the Schrader designs. They looked great, homebuilt, tough and all metal.
After getting familiar with all the HP designs I fell in love with the RS-15 and decided that is all that I wanted? Needless to say, I heard quite a number of stories amongst the members of various clubs about the difficulty in piloting HP and especially the RS.
In early 2005 I found my RS aka Casper in Maryville Tennessee and begun to negotiate with the owner Garry Wackerhagen. I traveled to Maryville in August to examine Casper, after returning to Canada I decided to make a bid for her and paid the princely sum of $9900 and took delivery of her in early December.
Garry purchased the plane from Robin Clarke of Florida who is a friend of Clyde (first owner) and it was flown by him for a number of years until an unfortunate ground loop caused it to crash into a fence. Mr. Clarke was pinned into the cockpit due to a barbed wire which was strung between the fences; needless to say he had to be cut out of the cockpit. From what I have gathered the original wings were damaged beyond repair and the spars had too much corrosion to be salvaged. Therefore, HP 18 wings were then constructed by Robin under the tutelage of Clyde and then N69BQ was returned to flight status in Feb 1986.
Casper was built by Clyde Sharman of Florida with stock RS-15 wings in 1972
(N69QB) S/N # 30, empty weight 537 lbs; Casper is mentioned in the N50GL article under the contest number JX. From what I have been told by Clyde who has met R Schrader, he commented that it was one of the best homebuilt that he had ever seen.
I have had the opportunity to talk to all three owners of Casper; all have had many enjoyable flights in her.
My plans are to install winglets; molds have been loaned to me by john DeJong of York Soaring. I also plan to install some of the original instrumentation as shown in one of the pictures below. After gaining a number of years of experience, I will also build a new set of wings using Udo's airfoil and including some of his ideas i.e.: spoilers, 50% span ailerons
Highlights
Purchased in 1972 and first flight Oct 24, 1974 in Florida lasted 35 minutes
Pilot's comments
Roll good
Ground control weak, thermaling to the right deficient
Comparable to 1:26 in weak lift
Landing run 150 yards
Nov 2 1974 - Put up a good show when compared to 1:34 and open Cirrus
Nov 24 - Speed runs to 90 mph superior to 17meter Cirrus
March 1 1975 - Accumulated 37hrs 20 min in 22 logged flights
Flew 152 miles that day
Spins 1-1.5 turns for normal recovery and faster to the right will recover in ½ turn within 300 ft
Attained Gold altitude gain to 23,000 ft in wave

May 2/1975 - 2nd place in competition (best placing on record* Hugh)
March 1977 - Flight time 195 hrs 20 mins
Feb 7 /1986 - Phase 1 and Phase 2 operating limits issued major repairs completed (new HP 18 wings and repairs to empennage and updating through out aircraft)
July 6 1986 - Last flight in journey log 3hrs 30 mins
June 3 , 1995 - Purchased by Garry Wackerhagen for $1.00 and trailer to Tennessee where numerous repairs and updating took place. The most notable was the revising of the trailing edge of flaps as one spilt open on approach.
Nov 2 , 2005 - Purchased by myself and trailer to Arthur Ontario, York Soaring Association.
I would like to thank Clyde Sharman for entrusting me with the photographs and some of the history of Casper. Clyde flew P51's and P47 in WWII and is very knowledgeable in aerodynamics and engineering. At present he lives in Florida and is working on a hovercraft. I hope to meet him someday as I had many great conversations with him about his flying experiences and projects he has on the go.
I would also like to thank Caterina L my girlfriend for her undying support and help during the two long trips to Tennessee and to Author (Ontario).