C-FAJT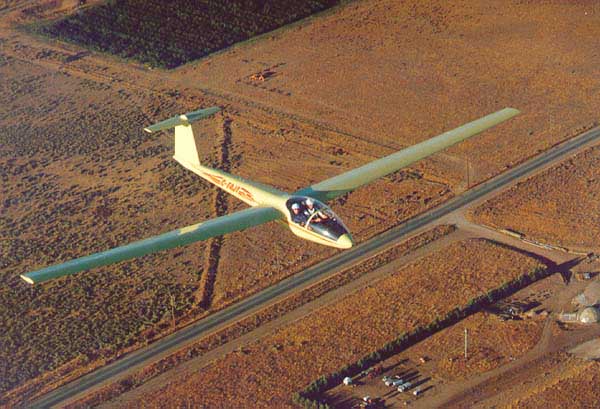 By
Don Matheson
When I went looking for a sailplane to buy, my criteria was for metal for durability, and preferably a two place, because I enjoy taking other people for rides to experience the joy of soaring. This, I had done in Hemet, Ca, in rented SGS 2-32, and Grob 103 Twin II, while on vacation. One day, while perusing the 1983 Soaring directory, I noticed an RHJ-8 based in Calistoga, Ca. and so on the next trip south, drove there and inquired about the airplane, and its owner. The a/c was not for sale at this time, but Al Martini said he would consider it, as he wasnít using it much, as he also had an Ls 3. I arranged for a flight in it, a few weeks later, on our return from Hemet. It turned out to be just what I had been looking for, and so after some negotiations, I bought and trailered it home in July í89.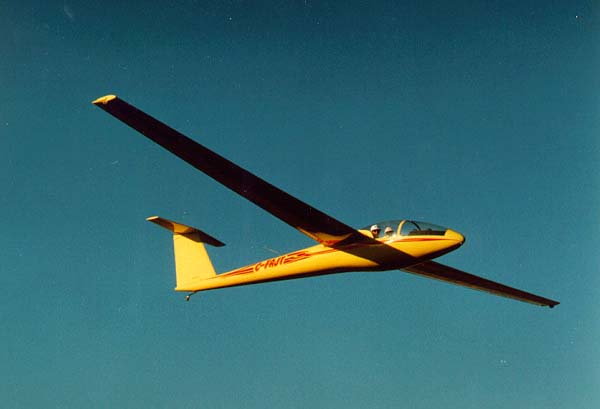 Its' history is as follows:
Serial # 2 of three, which were built in Windsor, Ont, Canada. This one built by Werner Kilsch. One was built by Henry Preiss, the designer of these fine ships, now owned by John Firth, in Ontario, and the other built by Hans Berg, and presently owned by Dave Nadler, in Boston. I have the original registration, C-FAJT. Johnsí is C-FAJS, and Davesí is N79DN. Incidentally, Davesí was on the cover of Soaring, January 1987. As built, C-FAJT weighed 570 lbs. in 1969. It was imported to Ca. in 1971, where Al Martini reportedly had many enjoyable flights in it. He also had the wings filled and profiled, added a 22 liter O2 system, a radio, and had an extensive amount of work go into adding a beautiful canopy and wing to fuselage fairings. It now weighs 700 lbs without the O2 system. The gross weight has been upped from 1000 to 1100 lbs. Henry Preiss was consulted in order to increase the gross. His reply was that that would lower the G load factor to 9 Ĺ from plus and minus 12g., and considered that acceptable. L/D is about 38:1.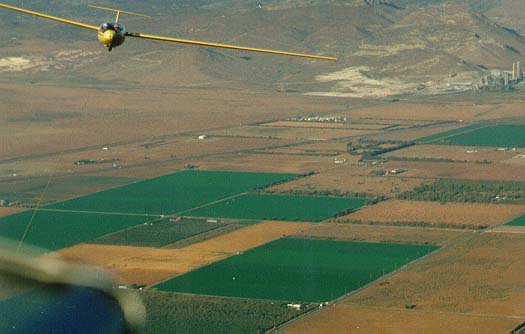 I base the plane at Port Alberni, on Vancouver Island, B.C., where I did my silver endurance with a 6.6 hour flight, Aug 27, 1990. I gained my silver, gold and diamond altitude flight in Cowley Alberta, in Oct. 1992. Arriving at Cowley for the first time was a typical experience of going to a strange place to fly, and get an area check by numerous experienced pilots, eager to fly this unusual , but practical sailplane. Iíve had lots of free dual, and thankful for it.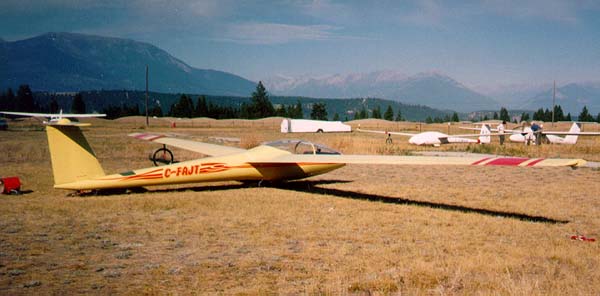 Iíve also gone on a couple of cross country safaris with the Vancouver Soaring Association, where we have flown at numerous locations, such as Grande Forks, Elko, Invermere, Pemberton, Salmon Arm, and Golden. Giving rides to many people with various interests is a pleasure. Did I mention Invermere? I did my 300 km goal flight there, completing my Gold badge, plus 2 diamonds. I still need the 500 km. I should also mention as a point of interest, that Mike Thompson in his HP14 (fax machine) and I formated briefly while at Salmon Arm. I was curious to see how close the L/D was in cruise flight. If I remember right, we were pretty close up to 60 mph, but I slowly lost altitude trying to keep up as he accelerated . Not bad for a side by side two seater though. The summer of í97 I had the aircraft cleaned up and Painted a soft "yellow gold".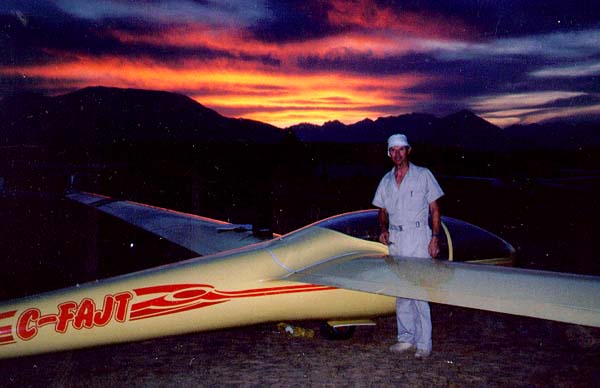 I trailered to Tehachapi Ca. in Aug. í97 to the Sailplane Homebuilders Association Western fall workshop. I again had a good time giving rides to many interested glider pilots.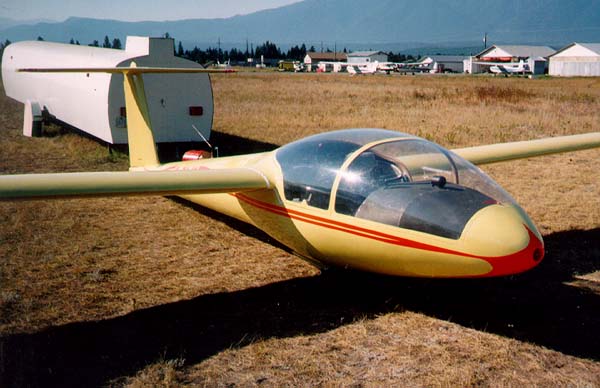 This last summer I flew another 30 hours in Invermere. Three flights over 5 hours, and two over 4 hours. This wraps up, and brings the history of an RHJ-8 up to date.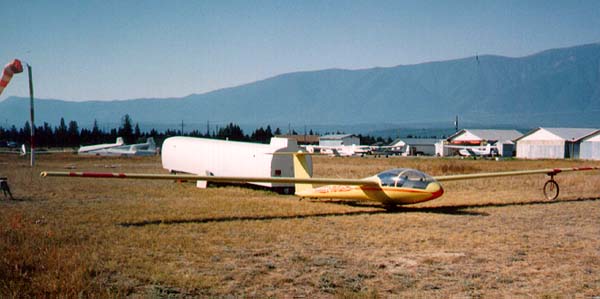 First flight was on November 3rd, 1969.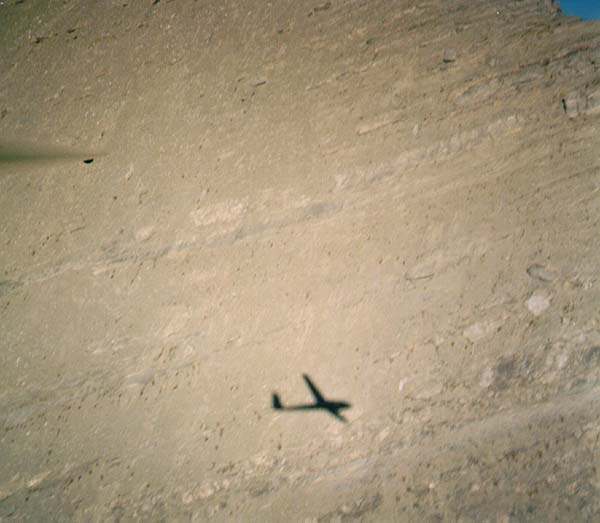 RHJ-8 Shadow on rock face of Goat Mountain
My longest flight in C-FAJT was 7.1 hours. Total airframe time to date is 470.2 hours.
RHJ-8 Specifications

Span

58.0 feet

Length

22.8 feet

Wing area

145.0 sq. ft

Wing loading @ min wt, 925 lbs

6.3 lbs. per sq ft.

Wing loading @ gross, 1100 lbs

7.6 lbs. per sq ft.

Aspect ratio

23.2

Airfoil

Wortman FX 61-163

Flaps

-5 to + 90 degrees

Empty weight w/ radio, ELT, etc,

700 lbs.

Min payload solo

215 lbs.

Max payload

400 lbs.

Max gross weight

1100 lbs.

Max speed, smooth air

110 knots

Max speed, rough air

90 knots

Max speed, Aero tow

90 knots